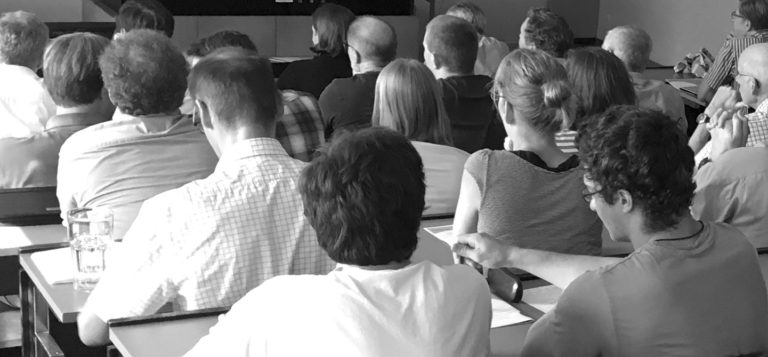 Please register online on www.fsrm.ch via the course description page, or by e-mail to fsrm@fsrm.ch.
Registration must be made at least 14 days before the course start date. After registering, you will receive further information, and an invoice if you don't pay by credit card.
The registration fees must be paid before the course commences. They include the course documents and, for the classroom courses, also lunch and coffee breaks.
Please reserve any hotel accommodation you may require.
If you are unable to attend, your cancellation must reach us at least two weeks before the course begins. In this case, your registration fees will be refunded in full. Should you cancel after this date, the registration fees are still payable. In this case, however, you may propose a replacement participant.
We reserve the right to cancel a course if the minimum of 5 to 6 participants is not reached. If a course cannot be held, you will be notified 7 days in advance (10 days in the case of courses organised outside Switzerland) and the registration fees already paid will be refunded in full. However, any travel expenses you may already have incurred will not be refunded. Please contact fsrm@fsrm.ch to know if the course is confirmed.
At the end of the course you will receive a certificate of participation.
With your registration to a course, or an event organized or co-organized by FSRM, you agree that FSRM uses your personal data.
The data collected by FSRM is used for the course administration and for bookkeeping purposes. The data is also used to send information concerning events that are organized or co-organized by FSRM (i.g. courses, public conferences, scientific congresses, workshops for kids).
Data protection guidelines
For course registration or events organized or co-organized by FSRM, the FSRM asks for personal data which is necessary to effectvely handle the registration (name, surname, postal address, phone number e-mail address).
FSRM takes all necessary measures to prevent access to the data, as well as their alteration or disclosure.
The data is treated confidentially and is not sold to third parties.
The FSRM collaborators are under the obligation of professional secrecy and respect the confidentiality of the treated data.
FSRM collects only data which is necessary for the management of its business relations. Additionally, it collects data that is necessary for the handling of course registrations and events organized or co-organized by FSRM.
The FSRM website www.fsrm.ch collects anonymous data of the visitors for statistical purposes (pages visited, links opened, duration of visit…).
Data correction, data deletion
You can ask at any time to no longer receive information from FSRM, or to be deleted from the FSRM database.
Please send an e-mail to fsrm@fsrm.ch. This information and/or link is mentioned on all FSRM publications.
Your data is hosted on an internal FSRM server, which is located in Switzerland. The data protection is ruled by the Swiss data protection law.
For all questions in relation to your personal data, please contact:
fsrm@fsrm.ch
FSRM
Ruelle DuPeyrou 4
2000 Neuchâtel, Switzerland
+41 32 720 09 00